Throughout my career, I have worked as a consultant across a wide range of industries. However, my passion is for healthcare.
It can be hard to have the trust and belief that there is a way to make change that will benefit patients and the organisation as a whole, and still ensure that everybody is able to meet their personal targets. It is difficult to understand how making deep changes is worth the risk.
I can tell you that a deep level of positive change is possible. By shifting your perspective and your focus, something amazing happens…
And, I have written a book about it.
In this book, you'll learn about: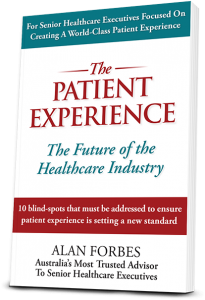 Cost savings – why the most efficient route is not always the most effective
Outsourcing – what this really means for your patients
Negative patient experiences – what the impact is on your growth and why it always matters
Disruption – why healthcare might not be as safe as you think
Technology – is it really the silver bullet you're being sold?
If you are a Senior Executive in the healthcare industry, then this book is for you. To find out more, click here.